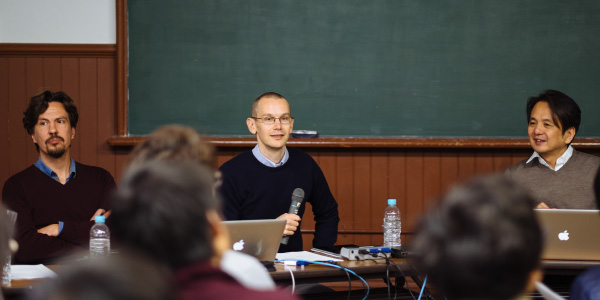 "Image Traffic in the 21st Century"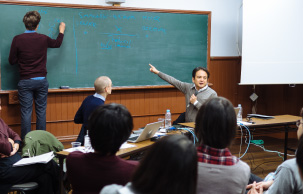 This program featured a dialogue, based on images (primarily moving images) that were screened, revolving around the circulation of images in today's society.
Prior to the event, over 100 video clips were submitted to a special Tumblr site set up for the project (paracon01.tumblr.com). At the event a wide variety of footage filled the screen, including works by Matthew Arnold and Pina Bausch, a new reworking of the seminal silent documentary Man With a Movie Camera as Man With a Digital Camera, nonsensical montages of video and audio footage from the Internet, and even home movies of friends singing karaoke.
The organizers, Keisuke Kitano and Alexander Zahlten, began the event by introducing a few of these submissions. The images, assembled without regard for divisions between "high" and "low" culture, were layered into a single agglomeration on a large screen, somehow resembling montages of imagery made by the early twentieth-century avant-garde to manifest the ideal of Utopia. Seen in another way, however, they also had a scattered, chaotic feel that was closer to dystopian.
The speakers shared these impressions of the images, followed by a dialogue that took the submitted video clips as a starting point but evolved into a broader discussion, with a report from special guest Pasi Väliaho and reactions from the audience that gradually overlapped with one another. It eventually became a maelstrom of encounters and collisions in which words and images moved about freely and dynamically.

Kitano's presentation was centered on an analysis of the English words "circulation" and "curation," which he had also explored on the event website set up beforehand. The phrase "circulation of images" evokes the contemporary media landscape, exemplified by the Internet, in which an infinite number of photos and videos can be disseminated horizontally. Meanwhile, "curation" generally refers to the organization and maintenance of art collections and exhibitions in museums and galleries, although primarily in Western countries it is increasingly used in the course of everyday life. In addition, the latter originally had a religious meaning referring to a pastor's leading of his flock, led by the word of God—a vertical chain of command, so to speak. The goal of this event was to break down the current state of the image from the twin perspectives of curation and circulation, reinterpret the dynamic intersection of the two as "image traffic," and clarify the evolving functions of images and media today.
Väliaho's presentation began with a response to the preceding talk, contending that conventional image theory, focused largely on representation, was reaching the limitations of its validity. He proposed that we were seeing these ideas replaced with a conception of images almost as living, organic beings. This trend has been advanced recently by theorists like Horst Bredekamp, W.J.T. Mitchell, and Hans Belting, and Väliaho gave specific examples such as players of war video games who post videos from the virtual "front lines" on the Internet as they play. While the gamer forges through the perilous and stunningly realistic battleground on the screen, a picture-in-picture box shows his or her reactions to the action: shouting, convulsing, and so forth. This kind of affect is particularly intensified by the FPS (first-person shooter) style of gaming—in which the player sees catastrophic life-or-death situations as if through his or her own eyes – and unfolds spontaneously as he or she is fully, bodily immersed in the images.

Finally, Zahlten's presentation started with a screening of the animated short film, JAM (2009) by Mirai Mizue. This piece, which has been called "cellular animation," features biomorphic shapes reproducing and proliferating to a rhythmic soundtrack, with layers of minimal sequences overlapping one another, in sync and yet subtly slipping out of phase. Zahlten presented the work as an example of the possibilities of "flow," making reference to the research of Zygmunt Baumann and Mihaly Csikszentmihalyi, and emphasized the connotations of this word, "fluid," so as to consider three aspects of image flow: content, control, and rhythm. This led to a discussion of images in terms not only of the meanings they convey, but also the way their circulation is controlled and what kind of physical reactions their rhythms can produce.

In between these presentations, the audience had already begun submitting questions and reactions, and at the end audience members spoke about their own video clips that they had sent in. The issues raised included how the videos screened thus far should be categorized from a historical standpoint, what kind of physical effect these moving images' synchronization or dissonance has on viewers, and what sort of (dis)communication arises from the traffic of images.

Notably, in response to the final question, Väliaho discussed the shift from the past model of communication, which envisioned a message from a sender to a receiver, to a new one, in which images emanate from screens and other media, and these images act directly on the collective body. To apprehend this model, it is necessary to adopt the perspectives of "control" and "flow" that were discussed during this conversation. These vantage points are crucial in the current environment, in which traditional media formats such as photography and film are dissolving, and which cannot be understood simply in terms of the meaning, the content, or the dichotomy of the original versus the copy. This event, which took moving images submitted by participants and others as the launchpad for an open dialogue, could be called an apt embodiment of this new model.
Text by Nobuhiro Masuda (Aesthetics and Image Theory); translated from the Japanese by Christopher Stephens
Scheduled to be published as an issue of the Parasophia Chronicle: www.parasophia.jp/en/publications/#parasophia_chronicle
Parasophia Conversations 01: Alexander Zahlten & Keisuke Kitano "Image Traffic in the 21st Century"
Date: Sunday, November 16, 2014 3:00−5:00 PM
Venue: Meeting Room 2, Kyoto Art Center
Coordinators/Moderators: Keisuke Kitano (Ritsumeikan University; Parasophia Professional Advisory Board), Alexander Zahlten (Harvard University)
Special Guest: Pasi Väliaho (Goldsmiths, University of London)
Presented by the Kyoto International Festival of Contemporary Culture Organizing Committee, Kyoto Association of Corporate Executives (Kyoto Keizai Doyukai), Kyoto Prefecture, and Kyoto City
Co-presented by Kyoto Art Center
About Parasophia Conversations
Parasophia Conversations is a platform for relaxed open conversations on various subjects, based on the Open Research Program.
Alexander Zahlten & Keisuke Kitano // Alexander Zahlten: Assistant Professor of East Asian Languages and Civilizations at Harvard University. Born 1973. PhD in Film Studies at Johannes Gutenberg University Mainz in Mainz, Germany. Zahlten conducted research for his dissertation at Nihon University (2003–05) and conducted postdoctoral research at Meiji Gakuin University (2009–11). In 2011–12, he was Assistant Professor in the Department of Film & Digital Media at Dongguk University in Seoul, South Korea. He was Program Director for the Japanese Film Festival Nippon Connection, the world's largest festival for film from Japan, from 2002 to 2010. His research on film and audiovisual culture in East Asia and especially Japan from the 1960s onward focuses on the connection between larger economic, social, and institutional structures and aesthetic modalities. He has published on topics such as Pink Film, Kadokawa Film, and V-Cinema in Japan. His recent publications have examined the role of postcolonial fantasy in Korean "remakes" of Japanese films, the question of categories in a media mix environment, and more. On November 9, 2014, Zahlten will be discussing the reception of Japanese anime overseas with Kim Joon Yang (Niigata University) as a talk event held in Niigata, Japan in connection with the Association for Studies of Culture and Representation's 9th Annual Workshop. [Later announced as Parasophia: Kyoto International Festival of Contemporary Culture 2015 participating artist. Read more: Alexander Zahlten] // Keisuke Kitano (北野圭介): Professor, College of Image Arts and Sciences, Ritsumeikan University, Kyoto; Parasophia: Kyoto International Festival of Contemporary Culture 2015 Professional Advisory Board member. Born 1963. Studied as a doctoral candidate in Cinema Studies at New York University. Kitano came to hold his current position after teaching at New York University, and an Associate Professorship at Niigata University in the Faculty of Humanities. He was a visiting research fellow at Media & Communications, Goldsmiths, University of London, from September 2012 to March 2013. Kitano is a wide-ranging film critic and scholar in Japan, and he has organized and participated in numerous panels and symposia on film studies, performance studies, social sciences, and architecture in Japan and abroad. He has written on Japanese cinema, American cinema, visual culture, and new media. On November 8, 2014, Kitano will be participating in a panel discussion on Allan Sekula presented by the Association for Studies of Culture and Representation and Parasophia: Kyoto International Festival of Contemporary Culture 2015 in Niigata, Japan, as part of the association's 9th Annual Workshop. He will also be acting as the host for another related panel discussion to be held the next day, also presented by the Association for Studies of Culture and Representation and Parasophia: Kyoto International Festival of Contemporary Culture 2015 in Niigata, Japan. More information: 9th Research Presentation of the Association for Studies of Culture and Representation: Research Panel 1 "Allan Sekula: Between Photography and Text, Image and Geopolitics I" [Later announced as Parasophia: Kyoto International Festival of Contemporary Culture 2015 participating artist. Read more: The Sekula Reader in Japan]